Formula Student Online 2020
Formula Student Online 2020
© Formula Student Online 2020

Formula Student Online consists of static and dynamic disciplines like conventional FS events:
The statics contain three sub-disciplines:
– the Engineering Design Event (EDE) where concept and design decisions have to be defended,
– the Business Plan in which a business concept for commercialization of the car has to presented,
– and the Concept Design Challenge (CDC). For the CDC of electric vehicles, an alternative battery storage concept has to be developed without big performance disadvantages.
The EDE and Business Plan presentation are submitted as videos and uploaded to the FSOnline website. Afterwards, the EDE judges have the opportunity to ask questions and have them answered via a text document.
In the EDE, we achieved the 8th place, in the Business Plan the 11th place. In the Concept Design Challenge, we made it into the finals and finished 3rd place.
The dynamic disciplines are held in a driving simulator. Firstly, a qualifying phase determines the two fastest drivers of the team. Next, the drivers race in the Autocross event. Based on the results of the Autocross, our team's drivers race against other team's drivers in the Race of Champions event (RoC). In the RoC, two drivers race against each other on an intersecting track. The driver crossing the start-finish line first wins the battle.
We qualified third and achieved the 15th place in the autocross event. In the Race of Champions, we accomplished the 9th place.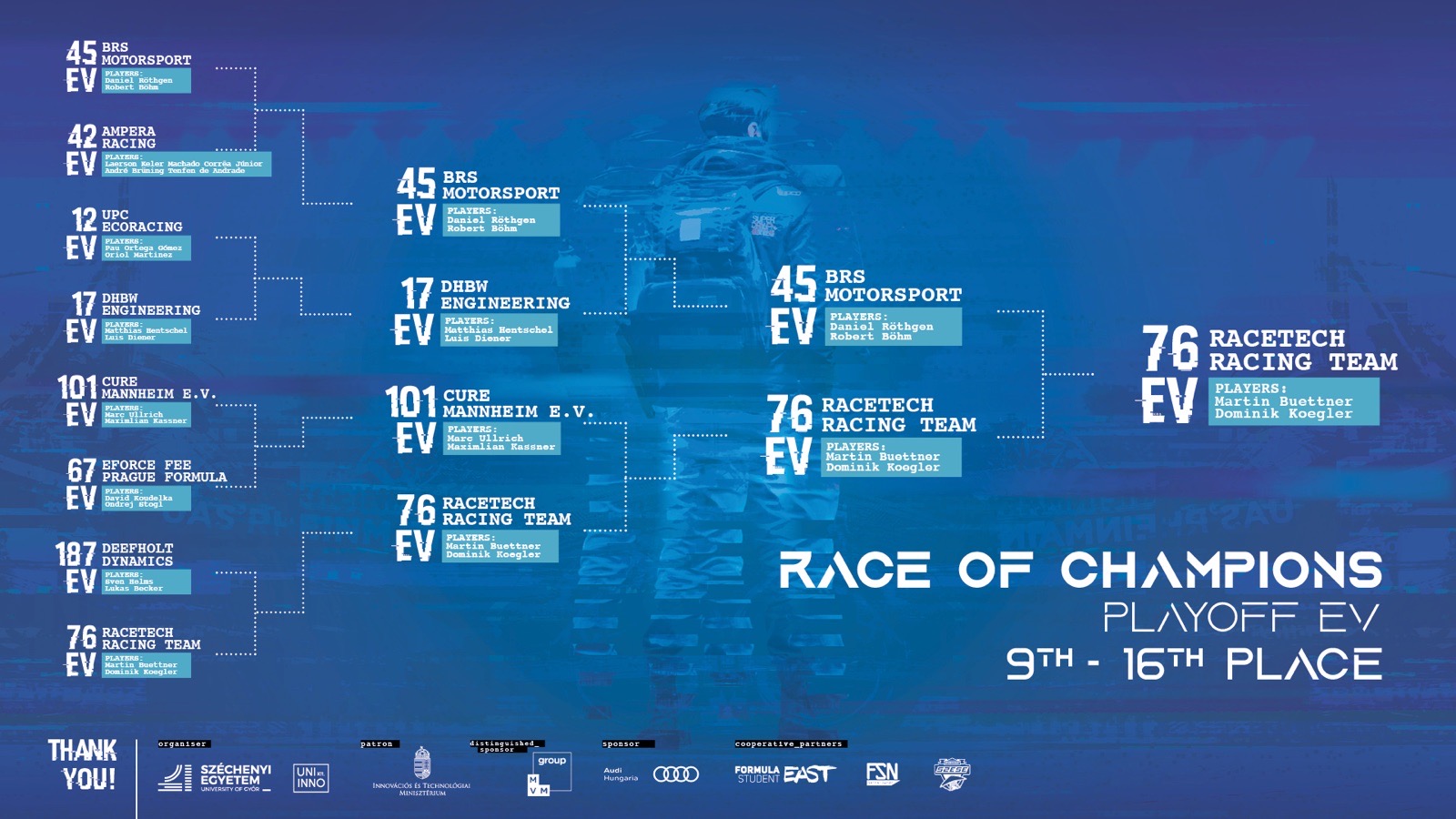 © Formula Student Online 2020

Bringing up something new to the online event, the FSOnline establishes the fun activity videos. For the fun activities, videos from different categories such as performing a driver egress at home or cooking an omelette in 60 seconds and commentating the ongoing action have to be produced.
In the fun activity event, we achieved the 12th place.
In the overall ranking, we obtained the 7th place with 759 points.
Congratulations to the winning teams and a big thank you to the FSOnline officials for hosting such an event!
Under the following link, you can watch the Formula Student Livestream: https://www.youtube.com/watch?v=1RwY1cNMqMg
[wp_social_sharing social_options='facebook,twitter,googleplus' twitter_username='racetechracing' facebook_text='Auf Facebook teilen' twitter_text='Auf Twitter teilen' googleplus_text='Auf Google+ teilen' icon_order='f,t,g,l,p,x,r' show_icons='0′ before_button_text=" text_position=" social_image="]